The Center of the Universe
The "Center of the Universe" is a little-known mysterious acoustic phenomenon. If you stand in the middle of the circle and make a noise, the sound is echoed back several times louder than it was made. Even more strange, no one standing outside of the circle can hear a thing. It's your own private amplified echo chamber.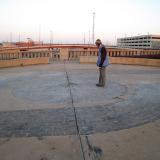 Lisääjä: Mikko
Aika: 2016-10-26 23:29:26.