The Phlegraean Fields are a large volcanic area situated to the west of Naples, Italy. It was declared a regional park in 2003. Lying mostly underwater, the area of the caldera comprises 24 craters and volcanic edifices. Hydrothermal activity can be observed at Lucrino, Agnano and the town of Pozzuoli. There are also effusive gaseous manifestations in the Solfatara crater, the mythological home of the Roman god of fire, Vulcan.

+ Naples Underground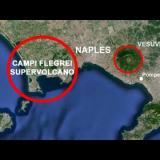 Aika: 2016-10-30 12:30:46.